Traducere automată din EN
High content of minerals and vitamin C in each bag, easy handling when preparing a delicious drink. One bag (15 g) contains 600 mg of potassium, 160 mg of magnesium, 90 mg of sodium and 80 mg of vitamin C.

WHEN AND HOW TO USE
Use in the days before physically demanding performance (races or heavy training), in the dose of one bag per day. If you suffer from cramps, one bag can be mixed into the hypotonic drink Enervit G Sport and sipped during the race or training. To replenish minerals after a demanding performance, you can drink one sachet a day and in the following days.

PREPARATION
dissolve 1 sachet in 200 ml of water

EFFECTS
- suitable for mineral supplements (sodium, potassium, magnesium, chlorine) - vitamin C contributes to:
- reducing exhaustion and fatigue
- correct energy metabolism
- protecting cells from oxidative stress (vitamin C)
- maintaining the proper function of the immune system during intense physical exercise and after it, when the organism is significantly weakened due to exhaustion

COMPOSITION
Sucrose (65.3%), potassium citrate (11.2%), magnesium citrate (10.5%), acid: citric acid, sodium citrate, aroma: wheat starch, thickener: sodium carboxymethylcellulose, vitamin C, sweetener: sucralose, anti-caking agents silicon dioxide, dyes: curcumin.

WE RECOMMEND
It is advisable to think about cramps already in the days before the race, because the body must be "saturated" with minerals.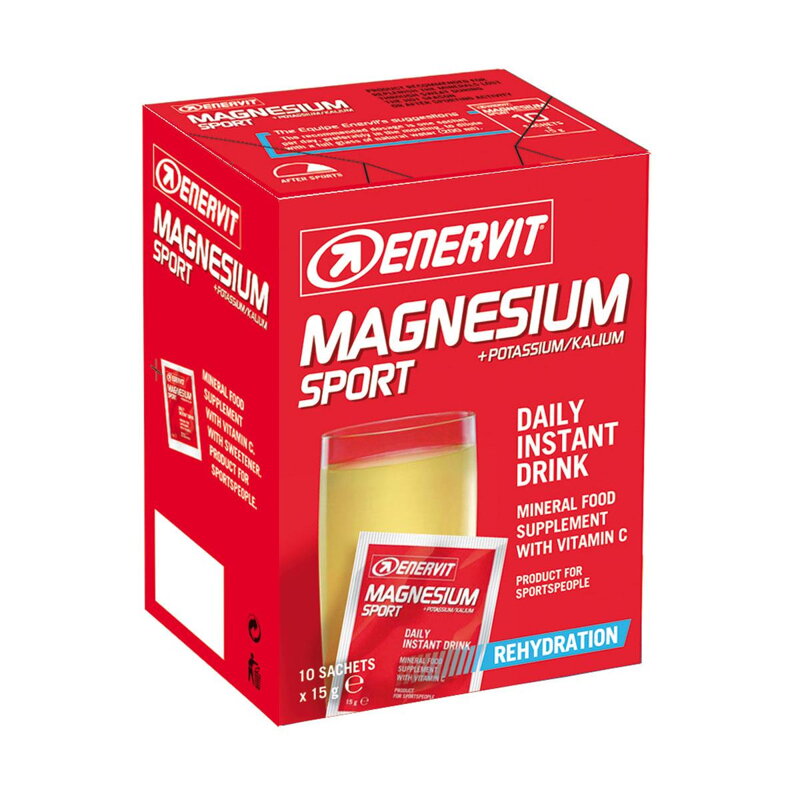 ENERVIT Drink MAGNESIUM SPORT
48,11 lei
40,43 lei excl. TVA